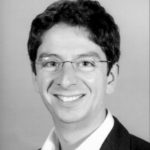 The author, Emmanuel Netter. After studying private and business law at the University of Strasbourg, I defended in 2010 a thesis on personal securities law, under the supervision of Professor Nicolas Rontchevsky (freely available here).
The University of Picardie – Jules Verne recruited me in 2011 as a lecturer in private law. I have progressively oriented my research there towards the law of new technologies, in particular by coordinating the "digital" axis of the Centre de droit privé et de sciences criminelles d'Amiens, and by organizing colloquia on digital assets (with Professor Aurore Chaigneau, 2014, book in open access) or the law of personal data (2016, open access).
Since September 2018, I joined the University of Avignon, where I am involved in the Bachelor and Master of Law degree programs, but also in the new multidisciplinary master "digital governance". I am now a full professor and director of the Laboratory of Goods, Standards, Contracts (EA 3788).
You can consult my HAL CV or my univ-droit and Linkedin pages. I tweet at irregular intervals.
The book, "Numérique et grandes notions du droit privé". If he wishes to supervise doctoral theses, a lecturer must pass a specific diploma, the habilitation to direct research (HDR). On this occasion, he is invited to look back on his past research and to imagine his future research, in order to question the coherence of the whole and the main lines of force running through his reflections.
Until now, I had been the author of seemingly scattered publications on electronic contract law, freedom of expression on social networks, participatory financing, dematerialized software? The HDR was an opportunity to bring together these different questions behind a general issue: are there legal issues specific to the digital world? Are the usual rules of law applicable to these new technical objects, or should they be altered, evolved or even changed? To answer this question, I have confronted in turn several major legal concepts in the digital world: the person, property, contract. The dissertation, supervised by Professor Judith Rochfeld, was defended on November 20, 2017.
Perhaps the result may be of interest, beyond the academic world, to jurists, computer scientists and more generally to curious citizens.
It seems to me desirable that the products of public research should be, as often as possible, easily and freely accessible. However, it is possible to explain why some colleagues are reluctant to do so. Thus, as a young doctor who had just defended my thesis, I received a form from the university proposing to put my thesis online. An elder who was sincerely concerned about protecting me dissuaded me from doing so: to accept, at the time, was to close the door to the big private publishers, thus tarnishing his CV and mortgaging his career. This whole system is undergoing profound changes. We should be happy about it, and why not contribute to it.
A paper version of this book has been  published by Ceprisca. This research laboratory, supported by public funds, has agreed to place the essential part of its scientific production in open access.
About multimedia enrichment. The images added to the text are either free of rights or used according to the Creative Commons license adopted by the author. As for the videos integrated to the pages by "transclusion", they realize a representation of the work theoretically subject to authorization. As explained here, one should however consider that the copyright holder who has authorized the transclusion of a Youtube video, for example, has implicitly but necessarily admitted that representations of it are given on sites other than his own. Advertising revenues will be paid exclusively to him/her. What remains are the few excerpts from films and series ("pop culture" sections) that have obviously not been put online by the rights holder, but by a simple amateur, probably without authorization. There is an exception to copyright, the "short quote", which one might wonder if it authorizes me to show you one minute of a film. The question is debated here, but the answer is dubious. First of all, only purely textual quotations are definitely covered. The short quotation from other media is the subject of a doctrinal debate around an ambiguous ruling of the Court of Justice of the European Union. Then, the Intellectual Property Code restricts the purposes that a short quotation may pursue: it should always be of a "critical, polemical, educational, scientific or informative" nature. These terms are subject to broad or restrictive interpretations, and case law lacks predictability. Nevertheless, I take the (limited) risk of maintaining these short quotations, in conformity with the conceptions I set out in the section devoted to the circulation of content on the web, in order to fuel the debate on the need to make texts or jurisprudence evolve on this point. Giving one or two minutes of film or series to illustrate a scientific analysis with lightness seems to me to have a social utility, without attacking the author's patrimonial right. Naturally, if a rightful claimant comes by and takes offence, he or she can send me a request for withdrawal.
Acknowledgements. I would like to publicly thank the University of Picardie for granting me a semester of teaching discharge to help me progress in the writing of this study. I would also like to thank my director of HDR, Mrs. Judith Rochfeld, as well as the members of the defense jury: Mr. Bernard Beignier, Mrs. Valérie-Laure Bénabou, Mr. Daniel Mainguy, Mrs. Sophie Pellet and Mrs. Célia Zolynski.